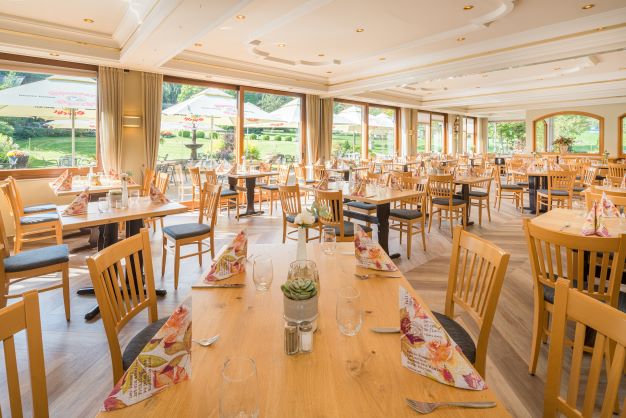 We look forward to your visit in our restaurant or, when the weather is nice, on our sun terrace
The health of our guests, employees and all fellow human beings is very important to us: Please support us and our employees in complying with the requirements of the state government. Take your time and understand the prescribed measures. Have your vaccination confirmation ready and please wear your mouth and nose protection in the specified areas so that you as a guest of the house and our employees are protected.
Our kitchen team around Mr. Wolfgang Rüb and Alexander Schuhmacher will spoil you with fresh products from the region. Whether with creative dishes or home-style cooking: there is something for all tastes. Mr. Erkan and Mrs. Noll's service team will be happy to keep you cool. Enjoy the charm of the Spessart and the wonderful atmosphere with a nice glass of wine, a cold beer or a drink in our restaurants or on the sun terrace.
We are looking forward to your visit.
Our opening times at a glance
Breakfast:
Monday – Friday: 07:00 a.m. – 10:00 a.m.
Saturday, Sunday and public holidays: 7:00 a.m. – 10:00 a.m.
Lunch & Dinner:
Daily from 11:30 a.m. to 2:00 p.m.
Daily from 6:00 p.m. to 9:00 p.m.
Should the restaurant times change at short notice, we ask for your understanding. At these times we serve dishes from our à la carte menu. Feel free to ask about our daily changing half-board menu or a recommendation from the kitchen.
Coffee & Cake:
Between friday till sunday at 2:00 p.m. till 5:30 p.m. we serve coffee & Cakes and small dishes to strengthen.
We look forward to your table reservation by phone: 06094 97160 Thank you very much!
You can find our menu here.
Gastronomy in the Brunnenhof